home
>
info
>
swim crawl walk run
Swim Crawl Walk Run
ALBUM OF THE WEEK - RTE RADIO 1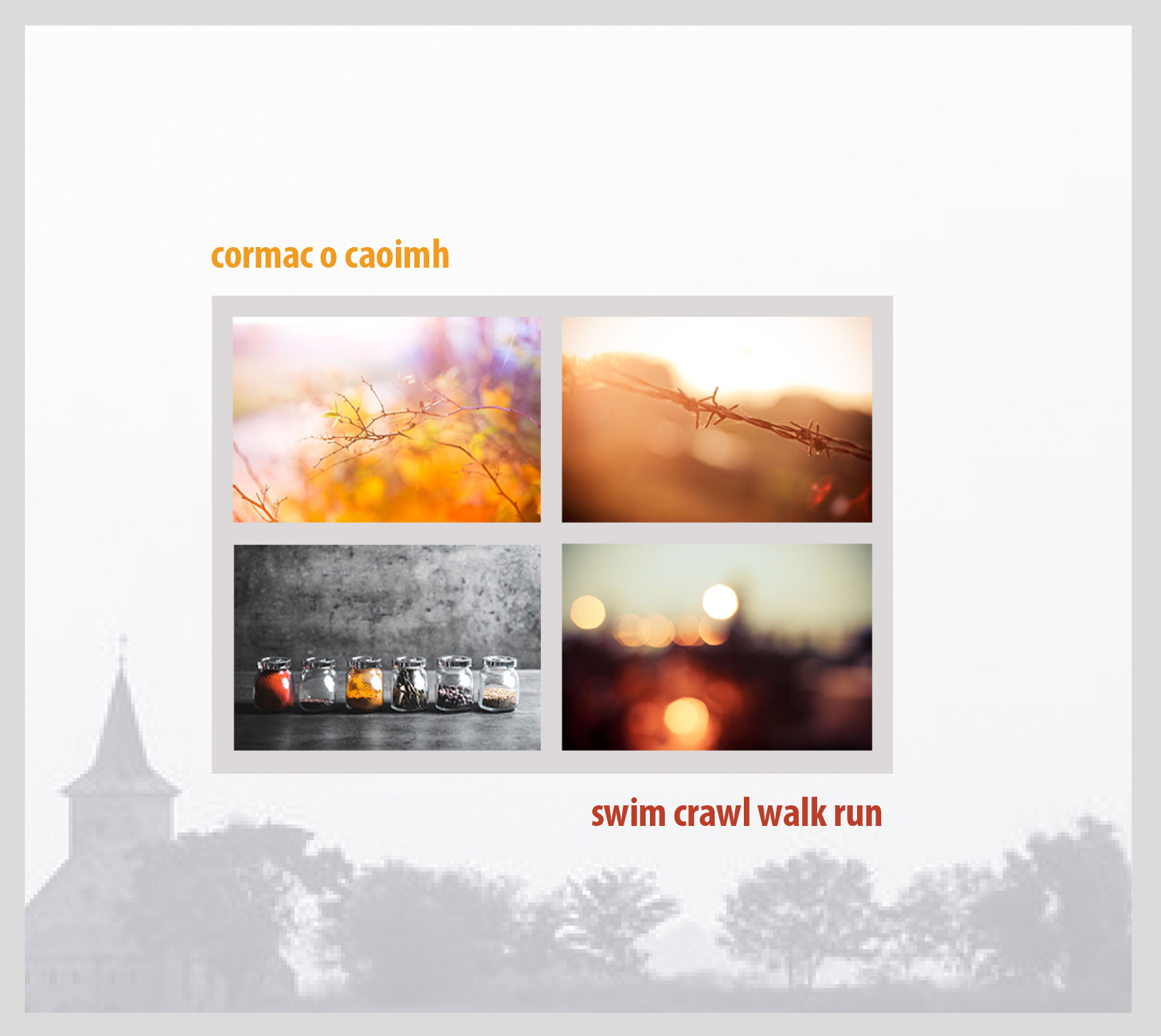 MARTY RECOMMENDS LYRIC FM ALBUM OF THE WEEK
ALBUM OF THE WEEK - LE VILLAGE POP
ALBUM OF THE WEEK - KCLR FM
"an absolute triumph" - Bayview Sounds
"one of the greatest living melodist" - Le Village Pop
" one of the most engaging voices in modern pop/folk today" - Leonard's Laid
"A stunning work .Sublime indie folk/pop songs - Eclectic Music Love
" a charming, thought provoking, acoustic masterpiece. " - Into The MelodY
"Cork minstrel's most accomplished yet - sweet, subtle pop for grown ups" - Americana UK
" extremely infectious...an assortment of fine songs with interesting, contemplative and quirky lyrics shared against a backdrop of captivating tunes" - Maximum Volume
"Cormac O Caoimh's latest album "Swim Crawl, Walk, Run" is just gorgeous."- Elmarie Mawe 96fm
"Irish singer-songwriter lifts our spirits with this bright and wistful folk-pop groove" - Mystic Sons
"Upbeat and heartfelt . effervescent" - Atwood Magazine
O Caoimh has "found a niche of his own somewhere between folk and pop music" - folkworold.eu
"worth the wait" - Beehive Candy
O Caoimh compares "favourably to the more introspective folk-pop artists like Badly Drawn Boy and Paul Simon.. Swim Crawl Walk Run really flies by and the arrangements always grab the attention" - Folking.com

Leonard's Lair

https://leonardslair.wordpress.com/2020/05/02/review-cormac-ocaoimh-swim-crawl-walk-run/

One of the main pleasures of reviewing music is seeing how an artist evolves and finds his/her voice. Certainly, O'Caoimh's voice (and what an appealing, smooth instrument it is) and songwriting skills have discovered a rich vein of form on his last few albums, whereas the first few offerings as The Citadels and his first solo album were a little patchy. Regular collaborator and backing vocalist Aoife Regan is here again as is Martin Leahy who seems to be credited with playing just about every instrument as well as taking care of production.
'You Won't Break Me' is a light and bright way to introduce the new record but better more deeply satisfying songs follow. 'When My Kids Grow Too Old To Hold Hands' is one such example; the simplicity of arrangements, guitar strums and O'Caoimh's always intimate vocals is a winning formula and later on the song bursts into a lovely sequence of strings. 'Desire Lines' is another highlight; some countrified guitar and brushed percussion giving the melody plenty of space to breathe and sink its hooks into the listener. As the album enters its mid-point, a self-effacing 'Pocketful Of Doodling' leans towards a jazzier direction and is a delight, especially when Regan joins in, whilst the equally excellent 'When Did I Get So Cold?' is another track which evokes the charm of rainy day afternoons (for the record, the singer's voice has possibly never sounded warmer). These more melancholic affairs contrast neatly with the uptempo likes of 'Swim Crawl Walk Run Ride Drive Fly' and the quiet-loud dynamics of 'Untitled'. Credit to for 'Slow Love', where the experimental staccato rhythms offer a somewhat unexpected (given the title) injection of pace.
'Swim Crawl Walk Run' is a delightful and cohesive album; showcasing one of the most engaging voices in modern pop/folk today. For fans of Kings Of Convenience in particular, this record is worth thirty eight minutes of anyone's isolation time.
Americana UK

https://americana-uk.com/cormac-o-caoimh-swim-crawl-walk-run-independent-2020

"Cork minstrel's most accomplished yet - sweet, subtle pop for grown ups"
It's the fifth time back to the well for Cork's O Caoimh and his folk-based pop. His previous release built upon a growing reputation and this one should continue the upward trajectory containing as it does some very savvy pop songs, carefully produced and deftly performed. 'When My Kids Grow Too Old To Hold Hands' is particularly affecting with its shiny folk stylings and clear depiction of the innocent joy of childhood. Digging deeper we hear Badly Drawn Boy in 'You Won't Break Me' and 'Desire Lines' but this is not plagiarism more a flavour and the latter track turns left as the strings come in and we have a plangent, melancholic coda that is a bittersweet delight.
Perhaps the only misstep is the title track 'Swim, Crawl, Walk, Run' which feels almost experimental when compared to the mood of the rest of the album. The production is fabulous with its layers of sound but the song itself feels lightweight. 'Pockets of Doodlings ' returns to the original template and it all the better for it. Sharp lyricism with melodies to match and a gentle but beautiful production. In fact the second half of the album is even stronger featuring the aforementioned and four more killer tracks all hewn from the classic songwriters book that O'Caoimh clearly subscribes to. In reviewing his previous album this reviewer postulated as to whether it was the one to 'breakthrough' for him – in the end it didn't but this one has just as much chance as the quality is the same. Maybe it's his time now. Let's hope so

Cork singer songwriter Cormac O Caoimh has released 4 studio albums to date. He has received a huge amount of radio play throughout his career and that was no different in the lead up to the release of his fifth album this weekend. Swim Crawl Walk Run was released on Friday 15th May. The album has already been named as Album Of The Week by RTÉ Radio 1.

The album begins with You Won't Break Me which is a gentle relaxing opening. When My Kids Grow Too Old To Hold Hands has a Paul Simon's Graceland sound to it. The beat is melodic and engaging and downright enjoyable. Recent single I'm In Need is up next and is still just as beautiful as it was on the first listen.

Desire Lines once again showcases Cormac's undeniable soothing style. His voice is like a pillow for your ears whilst his music literally hugs your soul. The mouthful Swim Crawl Walk Run Ride Drive Fly not only covers almost all forms of transport but it also transports the song into your mind for the rest of the day withs its delightful strings and electro beats. Pocketful Of Doodles is deceptive as the sombre lyrics are sung over heartwarming music.

Slow Love takes a more synth heavy approach with a repetitive beat running throughout. It works well with Cormac's wistful vocals. When Did I Get So Cold? returns to the more laid back style of the previous tracks and is again quite pensive. Untitled is absurdly stunning. It starts in one place and goes somewhere completely unexpected. It flows from gentle ripples to great big crashing waves. The album comes to a close with Building My Ark. It's a fitting finish and features some very nice backing vocals.

Swim Crawl Walk Run is an absolute triumph for Cormac O Caoimh. Every song fits perfectly and belongs on the album. There is no filler here. Whilst the majority of the album is mellow and melancholic, there are some moments of raucousness but it never feels out of place. A truly wonderful album.

Into The MElody
Swim Crawl Walk Run is a charming, gentle album which evokes feelings of happiness. With an often-jazz feeling to the chord progressions you picture yourself driving a convertible through the French Riviera during the 50's listening to this album. Behind this you have Cormac's song writing adding meaning to each song.
The album opens with You Won't Break Me and immediately you get a taste of what to expect from this album; gentle acoustic guitar melodies, a fast-paced drum beat, the warm tones of Cormac's voice and other instrumentation being added to complete the song. A perfect mix.
When My Kids Grow Too Old To Hold Hands is one of our favourite songs on the album, the title alone starts to bring emotions forward. The melody on this song is beautiful, an acoustic master class, making a few notes do so much but still sound delicate. This is a song you will be humming for hours after listening to.
I'm In Need has a different sound to it. Cormac's vocals are in a different key, and that adds a more serious tone to the song, however the beat and melody seem more playful. A contrast yes, but it works and creates a great song. Desire Lines takes you back to the riviera from the opening guitar, and Cormac's vocals are back to that gentle tone we got in the first 2 songs.
Title track Swim Crawl Walk Run is another one of our favourite songs on the album. It's a well-arranged song, musically there seems a lot going on throughout, but it still has the simplicity the album brings. And it is that simplicity that makes us really enjoy this album.
Pocket Full of Doodlings , I really like the guitar in this song. The acoustic is the key instrument with Cormac and he knows how to use it in a song without making it the song. There are a few little changes and progressions in this song where you appreciate that the guitar is there to add something to the song, rather than drive the song.
Slow Love comes next, with its up-tempo beat and slow vocals the song really works. There is an electronic feel to the beat and the guitar melody could be looped. Because of this it is a different feeling song but fitting for the album all the same. When Did I Get So Cold comes next and in this song Cormac's vocals work with the guitar melody, hitting the same notes and rhythm, and we like that. It is also a very well-produced song.
Untitled starts with what sounds like a very old acoustic guitar that has a tone similar to that of 1920's delta blues. This is a darker, moodier song. The synths create space age atmospheric sounds which add to the track. Just before the song hits the 2 minute mark it breaks out into a song we would expect to hear on this album, before quickly taking us back to that singular acoustic guitar, then breaking out one last time. A different song to the rest of the album, but we love it.
The album closes with Building My Ark, which takes us back to the music we expect from Cormac and a perfect way to end the album, almost bring it back full circle.
Overall, we love this album. It is fun at times, serious at times, but always thought provoking. Cormac has done a wonderful job on this, its an album to be proud of and we would like to thank him for giving us the opportunity to review it. The melodies on this album will get stuck in your head, there are hooks within the songs that will have you thinking for hours after listening. It manages to do all this while sounding delicate and from a different time.
This album will be on repeat here for quite some time, its easy listening, thought provoking, acoustic masterpiece.
For fans of
The Eels
Frank Sinatra
Athlete
Badly Drawn Boy
Into the Melody Recommends

Eclectic Music Lover
https://eclecticmusiclover.com/2020/02/24/cormac-o-caoimh-single-review-im-in-need/

He's a skillful wordsmith and guitarist, writing sublime indie folk/pop songs overflowing with thoughtful, intelligent lyrics about the universal subjects of life, love, hope and loss, and delivered with subtle hooks, fine instrumentals and his pleasing vocals that sounds a bit like Paul Simon at times. His catchy melodies seem to effortlessly draw us in, then stay with us long after the songs end. I found myself humming "I'm in Need" long after hearing it. As Mojo Magazine so eloquently put it: "each song superglues to the memory".
Cormac has released a substantial amount of music over the past 15 years or so, including four studio albums, the most recent of which was his marvelous 2017 release Shiny Silvery Things. (I strongly encourage my readers to check out his music, which you can find on most music platforms, some of which I've listed at the end of this post.) Now he's putting the finishing touches on his forthcoming fifth album Swim Crawl Walk Run, due for release on May 15. "I'm in Need" is the album's lead single, which Cormac released on February 21st. The single and album were produced by his friend and fellow musician Martin Leahy, a talented multi-instrumentalist who's collaborated with Cormac on previous records, and also played drums, bass, keyboards and more on the new album. The lovely backing vocals on "I'm in Need" and other tracks on the album are by Aoife Regan.
Cormac gave me the opportunity to have an advance listen to Swim Crawl Walk Run, and it's a stunning work. It's obvious he poured his heart and soul into it,
"I'm in Need" has a mellow and catchy acoustic-guitar driven melody, but a deeper listen also reveals a slight jazzy quality to Cormac's guitar work that's quite marvelous. His guitar notes beautifully meld together with the gentle percussion and keyboards, resulting in a harmonious and captivating soundscape. His calm, smooth vocals are exquisite, and like the music, blend in perfect harmony with Aoife Regan's backing vocals. I like the spacey little sound effects inserted into the middle of the song that perk up our ears. It's a lovely and wonderful song.
2.MAXIMUM VOLUME Rating 9.5 /10
http://www.maximumvolumemusic.com/review-cormac-o-caoimh-swim-crawl-walk-run-2020

Cork, in the South West of Ireland has produced some wonderfully quirky musical artists over the years such as Sultans Of Ping FC, The Frank and Walters, Fatima Mansions, Microdisney and Simple Kid to name but a few. Another one to add to this illustrious group is Cormac O Caoimh, a singer-songwriter, classical guitarist and the former singer of the band The Citadels. He has released four albums since the demise of the band, 2007's "Start a Spark", 2012's "A New Season for Love", 2014's "The Moon Loses Its Memory" and 2017`s "Shiny Silvery Things".
He has a new release, "Swim Crawl Walk Run", and his new offering showcases his unique song writing and guitar playing. It was recorded between 2018 and 2019 with Martin Leahy at the helm. This is his most ambitious album yet, featuring ten songs, with multi-instrumentalist Martin Leahy playing drums, bass, keys, pedal steel and a variety of other instruments. Aoife Regan providing backing vocals and Aine O`Gorman strings.
`You Won`t Break Me` opens this offering with vocals that are almost softly spoken against a shuffling drum beat and piano accompaniment, relating a tale that could possibly be resilience to what seems to be a less than amicable breakup. A song that seems to reflect on how life moves very quickly follows with `When My Kids Grow Too Old To Hold Hands.` It`s a really upbeat tune with a compelling repetitive beat setting a pace for this story of more or less making the best of the current time you have, almost an allegory for life. We have some really amiable harmonies and backing vocals throughout and some odd whistling thrown in for good measure.
`I`m In Need` led by a constant drumbeat is the single off the album and does seem to enter into the subconscious. A tale of the inability to shake the dependence to a previous partner after the end of the relationship. The lyrics are quite rapidly expressed in an almost relentless fashion. More unfulfilling romantic leanings come with `Desire Lines` a quietly expressed tale of two people who seem to crave the same from life, should be compatible but can`t seem to get it together. The tune has a dreamy, melancholic feel, which complements the subject matter.
I found `Swim Crawl Walk Run Ride Drive Fly` extremely infectious. A marvellously upbeat offering with words that seemed positive but almost nonsensical or maybe too deep for my limited understanding. There`s a delightfully jazzy feel about `Pocketful Of Doodlings`, with some sweet harmonies, the narrator reflecting on happier times romantically. There`s a sort of curve ball next with `Slow Love` a piece of prose in praise of love but to a quite unorthodox backing. A kind of electronic drum beat almost overwhelms the beautifully shared vocals and strummed guitar, a really eclectic piece.
`When Did I Get So Cold` is a wonderfully laid-back jazzy affair with a tapped drum beat and some wistful harmonies, with lyrics that seem to contemplate as to when the chronicler realised, they`d become distant. The penultimate track `Untitled` is a real stop start affair opening with plucked guitar chords and Connor`s quite laconic vocals and an odd synth key before emerging briefly into an upbeat virtually samba like passage before reverting back to the previous quiet movement then again into the upbeat portion to conclude this offering. The lyrics seeming to offer hope and support to a close acquaintance who seems to be struggling.
The album closes out with `Building My Ark`, a delightfully laid back, country inflected piece in the vein of classics such as "Blue Moon" with uplifting lyrics, charming harmonies and some touching accordion intonations supplied by Pat Crowley, that blend so well together.
After the release of Comac`s last album "Shiny Silvery Things". I thought it`d be hard to follow that but if anything, I have to say I feel he has surpassed it. There is so much to enjoy with this release. Cormac`s vocals are softly spoken at times and are complimented by the way he has structured the music.
"Swim Crawl Walk Run" is an assortment of fine songs with interesting, contemplative and quirky lyrics shared against a backdrop of captivating tunes, brought to life by some very talented musicians. The songs tackle a variety of human emotions, personal or fictional, moving from helplessness and vulnerability to achieve a real upbeat and optimistic outcome. The title "Swim Crawl Walk Run" could almost be a metaphor for how we should deal with relationships in achieving a positive harmonic life
FOLKING.COM

https://folking.com/cormac-o-caoimh-swim-crawl-walk-run-own-label/

Cormac O Caoimh is a singer/songwriter from Cork and Swim Crawl Walk Run is his fifth album, although the first to come our way. He's been compared favourably to the more introspective folk-pop artists like Badly Drawn Boy and Paul Simon and I can see that but after my first listen to his album I tried to come up with a comparison of my own. It is this: imagine, if you will, that Don Mclean was Irish and there you are.
As a soloist Cormac relies on just his voice and acoustic guitar but on record he is supported by his producer Martin Leahy on no less than twelve instruments and backing vocals with strings on three tracks by Aine O'Gorman – a one woman orchestra – and accordion from Pat Crowley on one track. Aoife Regan provides backing vocals.
There's a lot about love and relationships on the album, a perfect example being 'When My Kids Grow Too Old To Hold Hands'. Here, Cormac talks to his young wife – I presume – to the effect that even when his children are grown and gone he'll still cherish her. He returns to a similar theme on 'Slow Love', a slow song with fast percussion.
Elsewhere, he's defiant in the face of adversity. The opening track, 'You Won't Break Me', states that quite explicitly, and the title track – 'Swim Crawl Walk Run Ride Drive Fly' in full – is about the search for freedom The final song, 'Building My Ark', co-written with Leahy, seems to couple that idea with the need for security. 'Pocketfull Of Doodlings' is a rather more light-hearted song but still with an underlying sadness. I must confess that I still find some of Cormac's lyrics rather opaque but I'll work on that. I do think that I've worked out the meaning of the title, though.
Swim Crawl Walk Run really flies by and the arrangements always grab the attention with, for example, the slow solo guitar which opens 'Untitled', a song that develops into a full-on rock band treatment for the chorus
has eventually found a niche of his own somewhere between folk and pop music.
http://www.folkworld.eu/71/e/cds9.html#caoi

When My Kids Grow Too Old To Hold Hands
"a charming and catchy song with an underlying Bossa Nova guitar rhythm" - Hot Press
https://www.hotpress.com/music/cormac-o-caoimh-releases-new-song-kids-grow-old-hold-hands-22811073
"Upbeat and heartfelt, Irish singer/songwriter Cormac O Caoimh's effervescent "When My Kids Grow Too Old to Hold Hands" is a sweetly affecting ode that we can all connect with and appreciate." - Atwood Magazine
https://atwoodmagazine.com/ccwk-cormac-o-caoimh-when-my-kids-grow-too-old-to-hold-hands/
"Acclaimed Irish singer-songwriter Cormac O Caoimh has shared a charming new song with the endearing name 'When My Kids Grow Too Old To Hold Hands'." - unrecordedmu.com
https://unrecordedmu.com/2020/04/03/cormac-o-caoimh-shares-summery-acoustic-song-when-my-kids-grow-too-old-to-hold-hands/
"Irish singer-songwriter looks to lift our spirits with this bright and wistful folk-pop groove" - mystic sons