home
>
info
>
a new season for love > press clippings
Press Clippings
This page has only been updated once or twice between 2012 and 2016. And not at all since 2016. And probably wont be ever again. And its too much hassle to get rid of it altogether. So thank you to all the lovely reviews, interviews and articlces that have been published but didnt make it to this page.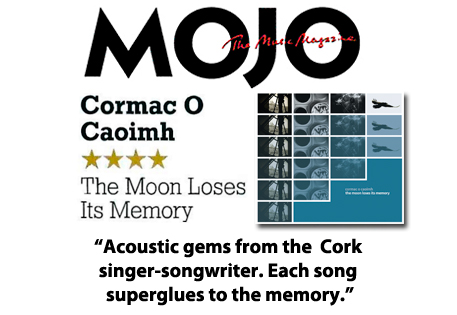 R2 Magazine **** Feb 2015

Cork Independent 2015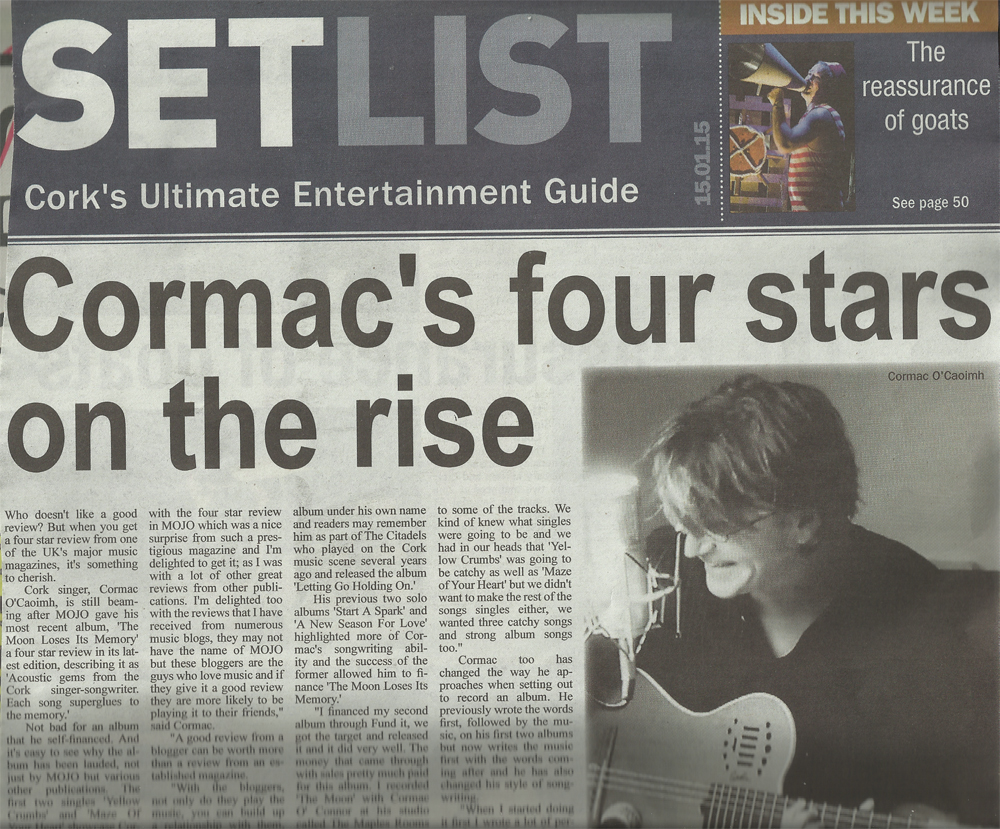 Southern Star Jan 2015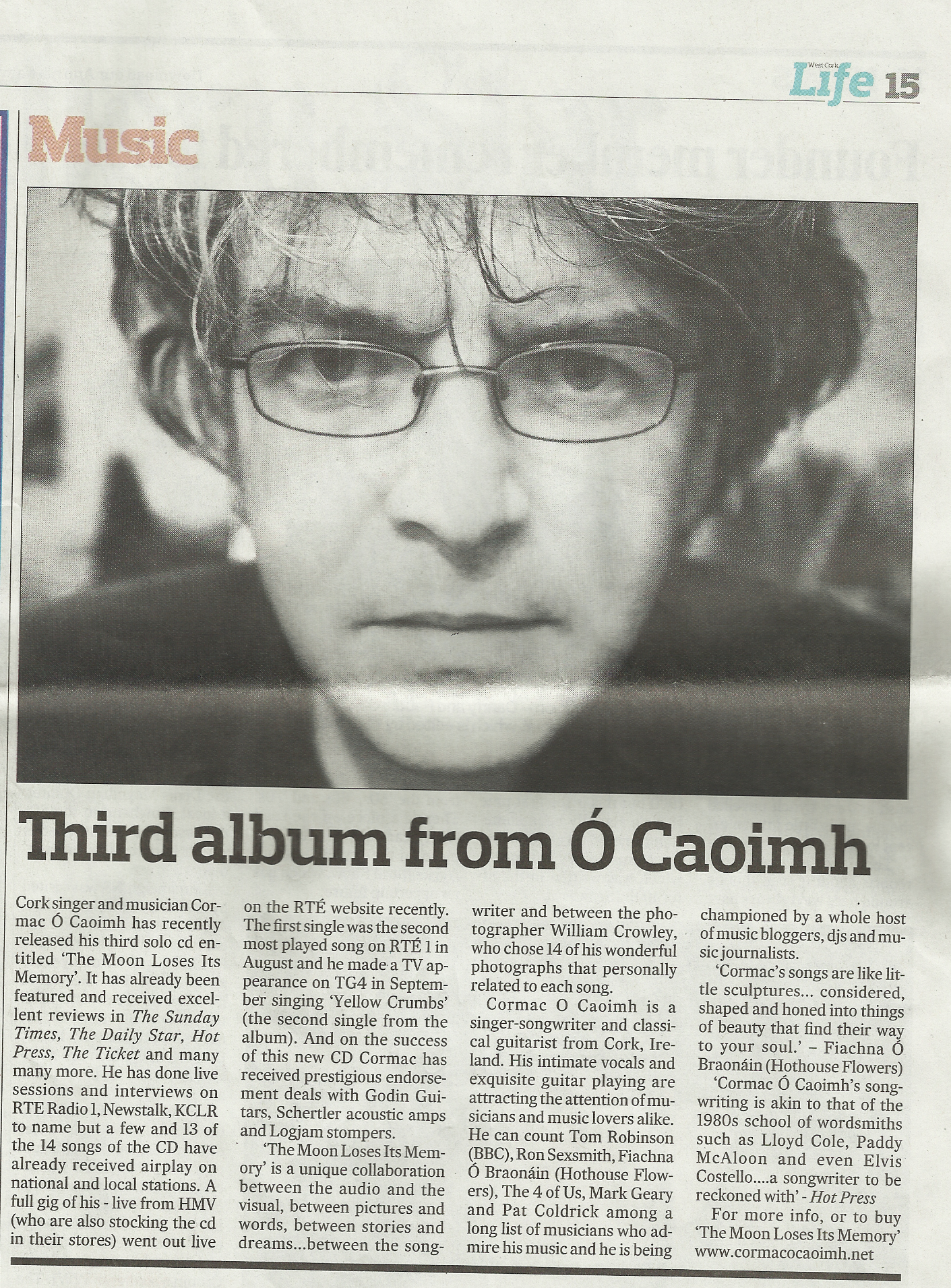 Welcome to a new page specially for Press clippings related to the "A New Season for Love" cd.
DOWNTOWN FRONT PAGE COVER 10/5/12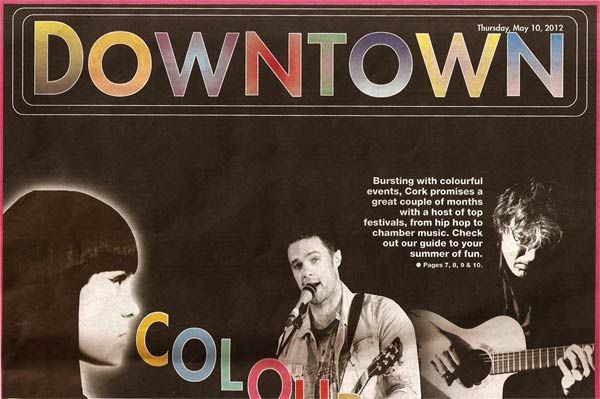 DOWNTOWN 10/5/12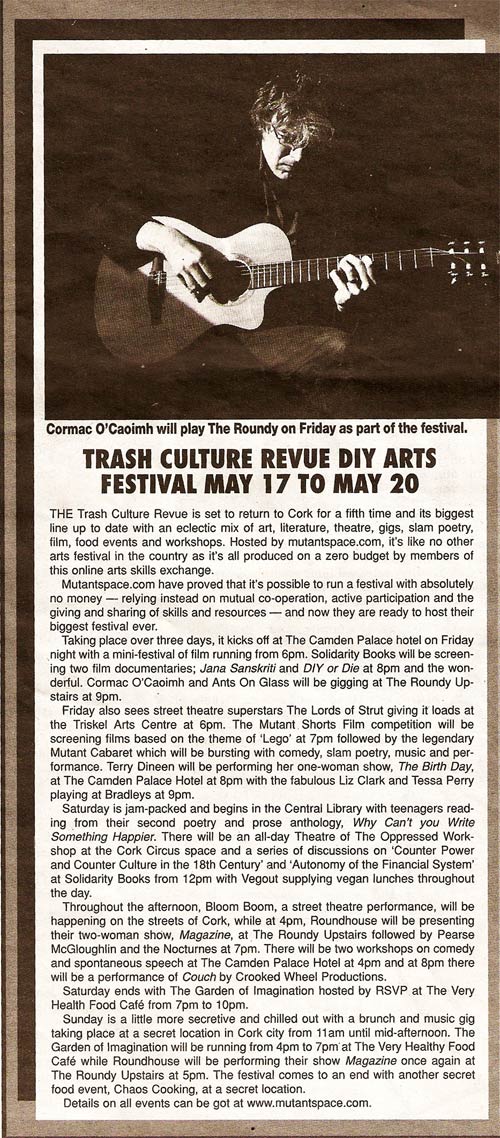 SOUTHERN STAR 10/5/12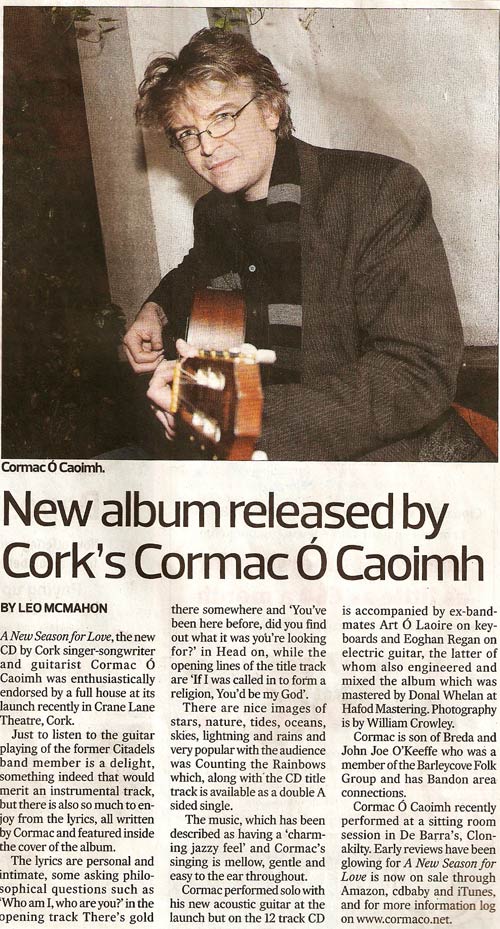 EVENING ECHO 03/4/12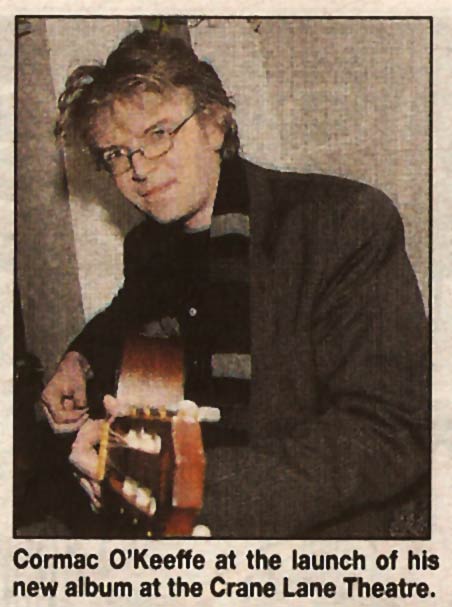 EVENING ECHO 26/4/12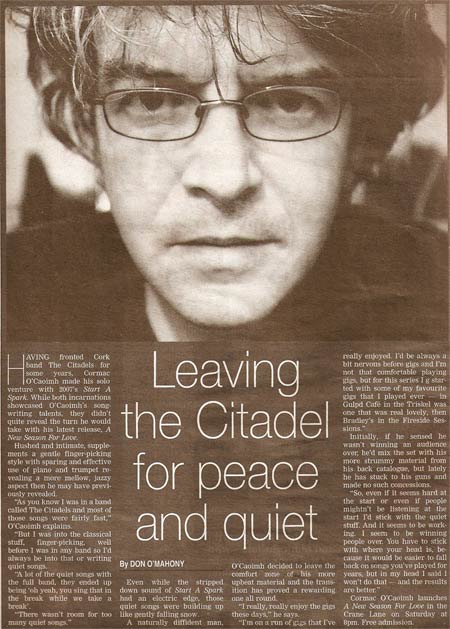 DUNGARVAN OBSERVER 4/4/12
CORMAC O'CAOIMH, who is about to release his new album 'A New Season For Love', a beautiful mellow collection of songs, with great emphasis placed on Cormac's  Classical/Jazz/Folk inspired guitar playing and soft, hypnotising vocals. Cormac's musical CV is filled with some impressive information, having supported the likes of Damien Rice, Declan O'Rourke, Mark Geary and The 4 Of Us, among others, as well as having a fan in the form of Ron Sexsmith. The one time front man of 'The Citadels' set will be well worth checking out and you can also buy his new album directly from him on the night.
EVENING ECHO 29/03/2012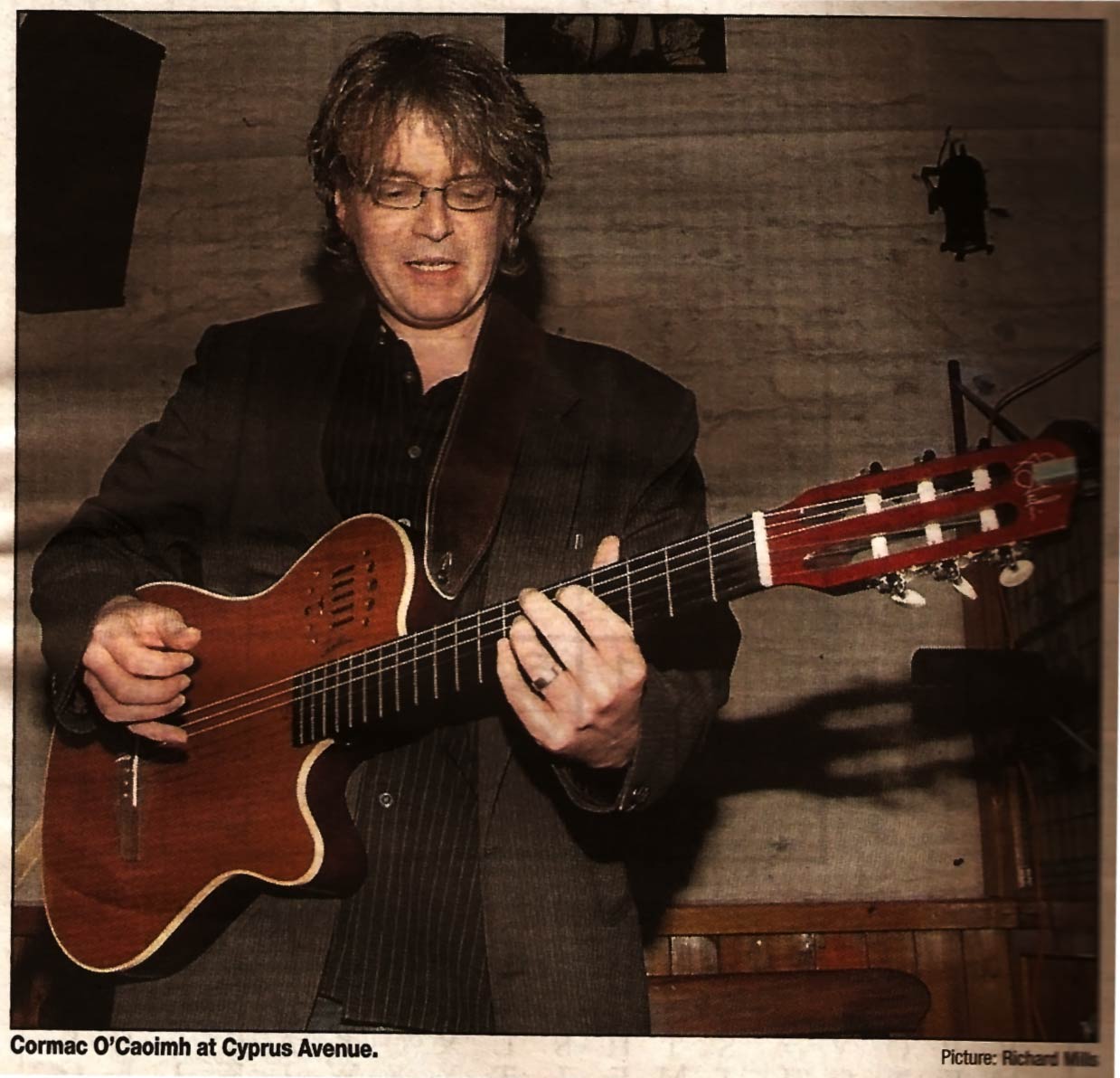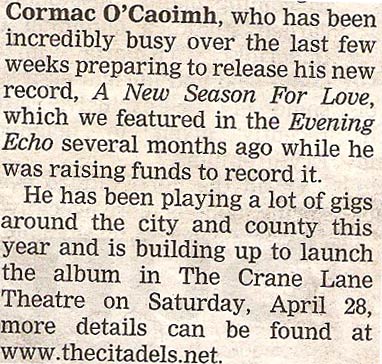 Cormac O Caoimh "has been incredibly busy over the last few weeks preparing to release his new record, A New Season for Love, which we featured in the Evening Echo several months ago while he was raising funds to record it. He has been playing a lot of gigs around the city and county this year and is building up to launch the album in The Crane Lane Theatre on Saturday, April 28, more details can be found at www.cormaco.net "
DUNGARVAN OBSERVER 21/3/12
Do you like walking in nature, headphones on, being encased in a soundtrack for each step? Or maybe you enjoy dusk with an open fire, a window revealing the changing sky while a warm woolly jumper of a song eases away the day? You might be inclined to dozing on wet Sunday afternoons in your favourite armchair, slipping in and out of the lyrics and soft voice of a poet? Perhaps you just love your folk music of the individual nature, full of space, guitar or piano played slow with skipping top notes, a lulling voice in the realm of Nick Drake, with lyrics that whisper of  love and lost things and friendship, quiet poetry, weaving through a gentle Jazz vibe. If so, you will benefit greatly from a dose of Cormac O'Caoimh. The former front man of The Citadels' new album, "A New Season For Love" is due for release April 28th, with the title track available for download right now on i-tunes. It promises to be an album full of delights, perfect for those mellower moments of dreaming.
CORK NEWS 19/08/2011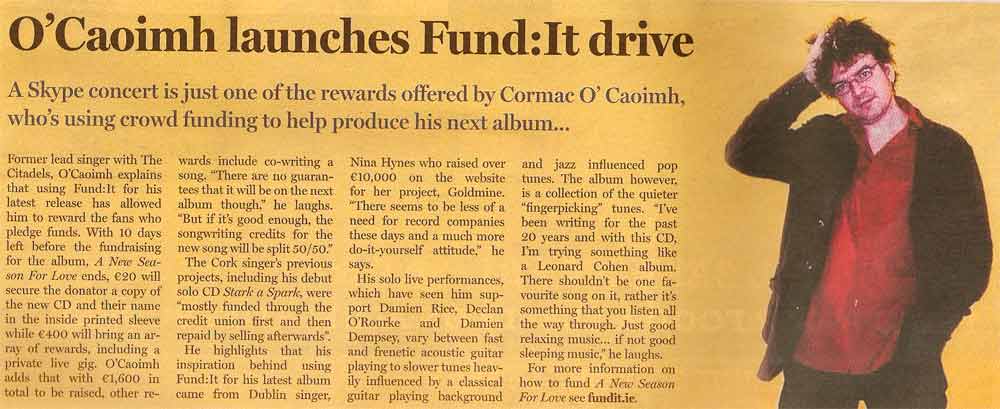 EVENING ECHO 18/08/2011