home
>
cormac & colum
Cormac O Caoimh & Colum Pettit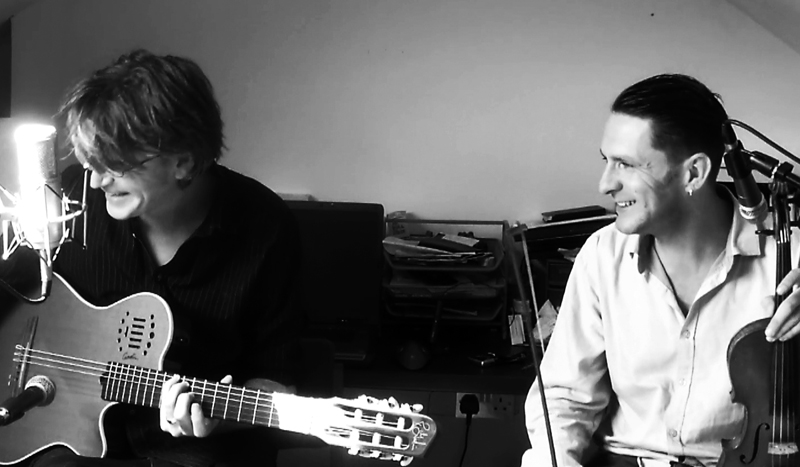 Singer-songwriter Cormac O Caoimh and violin virtuoso Colum Pettit are joining forces for a series of gigs in 2013 and 2014. Expect material from Cormac's back catalogue of cds and new material in ways you have never heard them before. They are already booked to play 2 gigs in Octoberl. Contact cormacocaoimhmusic@gmail.com or columpettit@gmail.com for booking inquiries
This page will be updated with news and pics and videos of the duo. Currently they are booked to play Oct 8th in the Crane lane and Oct 11th in the Long valley as part of the Cork Folk Festival
If you feel
Place a letter on my front porch
We got this lovely message about our last gig in the long valley.
"A big thank you to yourself Cormac, and violin virtuoso Colum, for such brilliant music, played straight from the heart - refreshingly uplifting and with genuine warmth. I'm not speaking only for myself here, we all agreed it was a great night altogether!!! And the Long Valley is deffo the "new" Lobby!!Or is it actually the "old" Lobby, as a Cork native told us,that we ran into in the street later."
COLUM PETTIT
Colum Pettit, Cork 1971 began his musical career in 1977 in the Suzuki Scheme at the Cork School of Music. Licentiate of Trinity College London and History Major at U.C.C. 1992 and Postgraduate Diploma in Music Information Technology, City University of London 1994. Has played Irish, Classical, Jazz, Salsa, Gypsy and Klezmer since then. Collaborations with Theatre since 1995, (Clown graduate London Circus School 1996), Tatadidi Theatre 1996/2000. Teatre Nacional de Catalunya 2005. Circ Panic 2009. Resident in Barcelona since 1997. Presently collaborating with Yannis Papaioannou and Barcelona Gypsy Klezmer Orchestra.
CORMAC O CAOIMH
What do…
A honeyed whiskey drink, a fine cognac on a cold winter's eve, a warm woolly jumper in muted earthy colours, a colour .. a rich mahogany warm and beautiful and a water colour painting all have in common?  They have all been used in reviews to describe Cormac O Caoimh's new album.
Cormac O Caoimh is a singer-songwriter and classical guitarist from Cork, Ireland. He released his second solo cd "A New Season for Love" and it is currently receiving excellent reviews .He was chosen as Play Irish artist of the month and was featured on the RTE 1 Show Arena. His intimate vocals and exquisite guitar playing is attracting the attention of musicians and music lovers alike. His latest single "Remember when we didn't kiss" topped the ITunes download charts on its release. His new series of videos attracted the attention of Godin Guitars and he is now an official Godin Guitar endorsee.
O Caoimh has picked up some well-known admirers along the way including Ron Sexsmith and Tom Robinson (BBC) and has shared the stage with fellow luminaries; Damien Rice (in the Paradiso, Amsterdam), Declan O Rourke, Josh Rouse to name but a few. He plays all over Ireland and also ventured further afield playing headlining gigs and festivals in Edinburgh, London, Amsterdam, Canada and New York (including Canadian Music Week in Toronto, London Calling in London and various other Folk, Jazz and Rock Festivals).
For more info visit
http://www.cormaco.net
http://www.facebook.com/cormacmusic
http://www.youtube.com/cormacocaoimh
"Beautiful beyond words" - Mutant Space
"Leaves you feeling that all can be right with the world" - Fatea Magazine
"There is true magic here" - Folk Words
"Feels as if you're wrapped up in your warmest coat glimpsing some vast and beautiful landscape through the condensation laden windows" - Tom Robinson (BBC) 's Fresh on the net site
"A perfect album. Sublime songs. Beautiful moments" Acoustic Review
"mature and intelligent and the albums natural feel gives it a worthy intimacy" - Hot Press